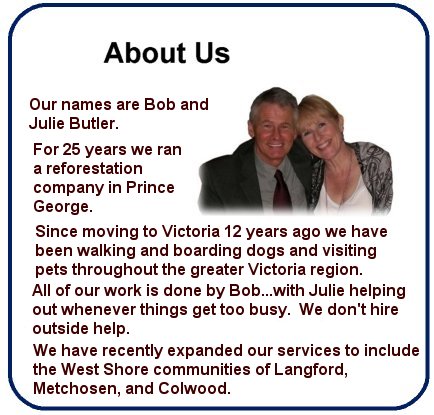 Peace of Mind Petcare provides pet sitting, dog walking, cat and puppy visits, and home-style boarding for clients in the greater Victoria region.
Whether you are on vacation, working long hours, or just unable to provide the attention your pet deserves we are here to help.
Below you will find a listing and descriptions of the various services that we offer. Please click on each link to visit their respective webpages. We will work with you to create a schedule individual to your pet's special needs.
The consultation is free, simply contact us to set up an appointment.
Dog Walking
Cesar Milan, of The Dog Whisperer fame, believes that a well balanced dog needs to be a well exercised dog. It is our goal to ensure that when you come home from a busy day at work that you will be greeted by a pet that is relaxed and calm -- a pet whose companionship fills you with happiness, not one that is high strung and anxious for attention, demanding that you take him out for badly needed exercise when all you want to do is put your feet up and relax.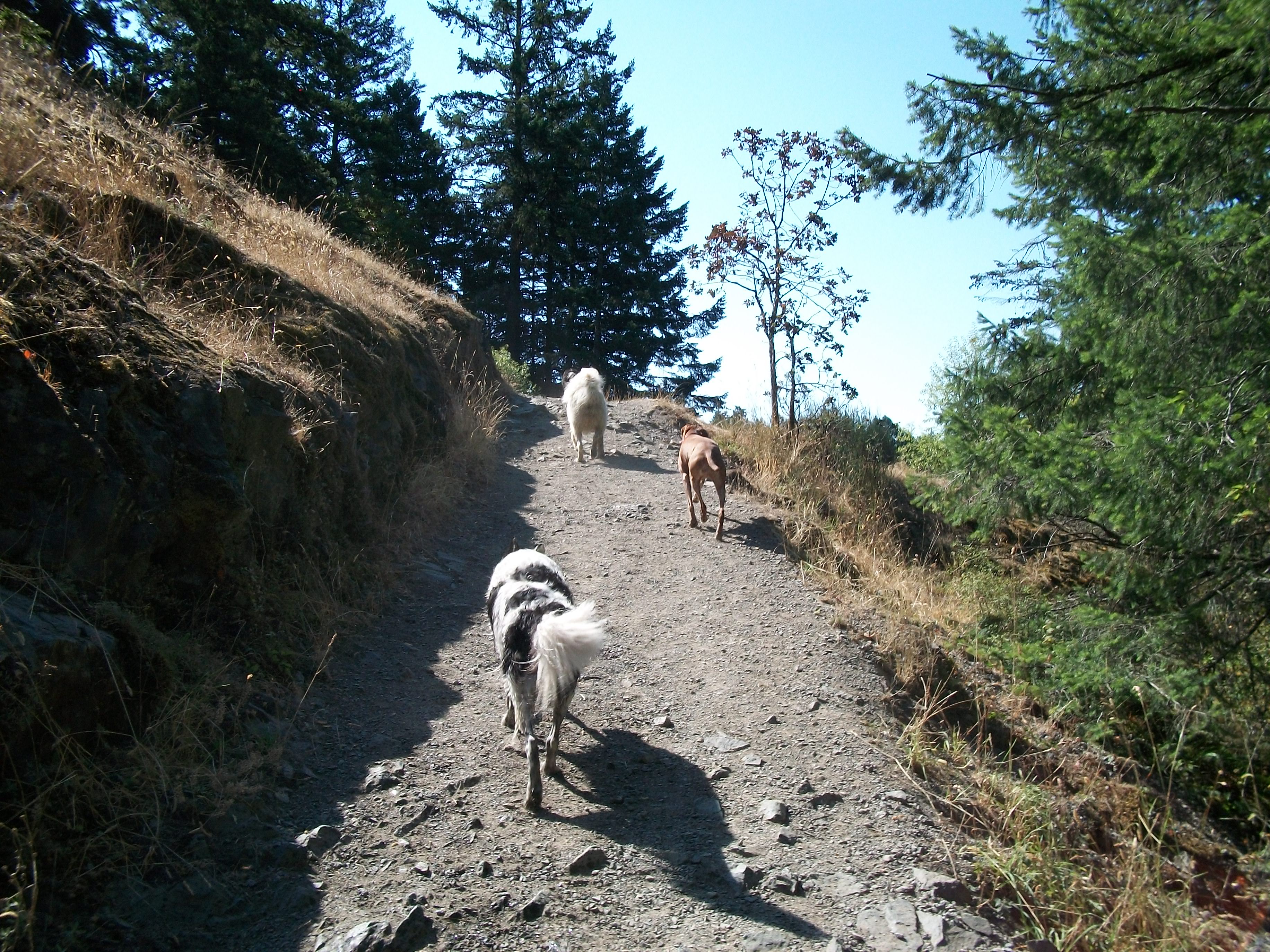 Almost all of our walks are in groups, generally consisting of 5-7. We take them to areas where it's safe for them to run and play off leash. Some owners might be nervous about letting their dogs go off leash but we've found that it's a wonderful way for them to burn off energy and gives them the kind of social interaction that they wouldn't normally receive when walking on leash. And because dogs are pack animals there is far less danger of dogs wandering off when they are in a group. We often tell people that it's easier to walk six dogs in a group than it is to walk a single dog that may be easily distracted by other dogs, animals, or birds.
Dogs that cannot be walked in groups will be considered on an individual basis and will be accepted only if they can be scheduled without conflicting with our group walks. These dogs are typically charged a 50% surcharge over our normal group walk rates.

We normally do two or three walks in a day. Some of our favorite destinations are Mt. Doug, Beaver Lake, Thetis Lake, Island View Beach, Parker Beach (Cordova Bay), Cadboro Bay beach, and McCauley Point. We avoid the dog park by the university due to the presence of spear grass in the summer months and we seldom go to Clover Point/Dallas Road due to the proximity to traffic. The safety of our client's pet is of primary importance to us. We always carry a first aid kit in our vehicle as well as a list of the Veterinarian's that our clients use.
In Home Boarding
Clients who leave their dogs to stay with us can be assured that we treat their pets with the same love and care as we would our own. We don't use cages or kennels.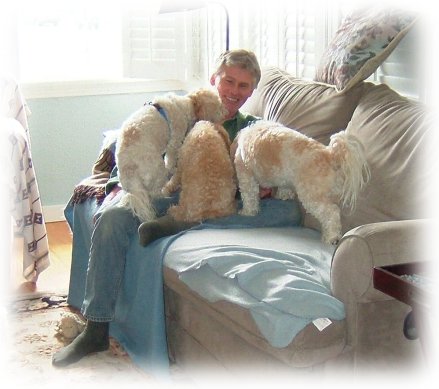 Our furry guests become part of the family. If they're allowed on the furniture at home, they'll enjoy the same privileges here. If they sleep on the bed at home, chances are they'll do the same at our place. We have a fenced backyard where they can romp and play as long as we're at home.
We try not to take more than three dogs at a time. There may be times when an overlap occurs and we may find ourselves with four or five dogs for one night but this has never been a problem. Please note that we do not take puppies. We also request that all dogs that come to stay with us be up to date with their shots, including some form of parasite control (Advantage or Revolution are recommended).
It is the client's responsibility to bring enough food for the duration of their pet's stay as well as anything else that would make him/her feel more comfortable (bed, toys, blanket, etc.)
We understand that leaving your pet with strangers can sometimes be stressful. To make things easier we are happy to offer a trial sleepover before you go on your trip. This will give everyone an opportunity to see how your dog will respond to staying with us and it will make it that much easier when he comes over for his longer stay. There is no charge for this.
No Charge Pickup and Return: If you find it inconvenient to bring your pet to us we'll be more than happy to pick him up at your place before you leave on your trip. Same thing on return...we'll bring him home to you, saving you the trouble of coming out to pick him up. As usual, we don't charge extra for this.
No Charge Home Visits: When your pets stay with us we'll be happy to schedule periodic visits to your home to ensure that everything is safe and sound, plants are watered, and to maintain your home insurance requirements.
Pet Visits
Sometimes it's just not possible or desireable for your pet to go to a kennel. It may be, for example, that your dog does not have all his shots up to date or perhaps he is anti-social and doesn't like being around other animals. For those occassions we are happy to come in to your home to visit, feed, and care for your pet. We can arrange a schedule to visit as many times per day or week as you wish.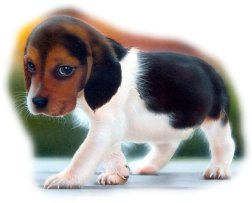 And if you have a new puppy in the family you've probably discovered that they need to go outside for pee breaks several times per day. The rule of thumb as recommended by PAWS (the Progressive Animal Welfare Society) is to give your puppy a pee break at intervals determined by adding 1 to the age (in months) of your pet. For example, if your puppy is 2 months old he should be taken out every 3 hours. This is a service that we love to provide (who doesn't like playing with puppies?). Then, after he's had his shots and is safe to meet other dogs, we can advance his socializtion skills by introducing him to some of our regulars.
Unlike dogs, cats can be left alone at home for much longer periods of time. While some owners like their cats visited more often, most are content with one visit per day.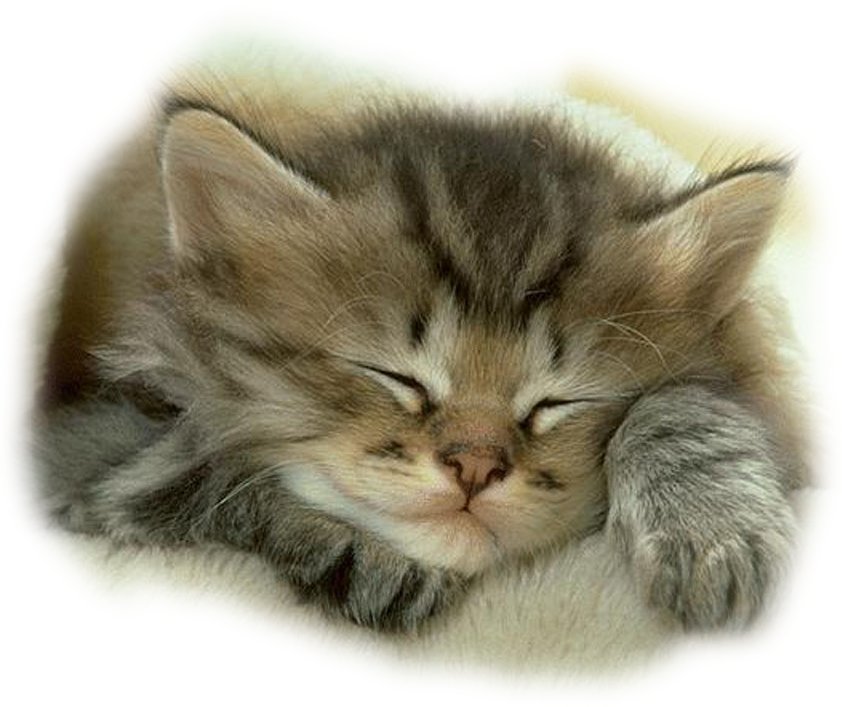 Depending on the cat, this may be only a few minutes or it may be a half hour or longer. Each visit involves cleaning the litter box, refreshing water and replenishing their food. In addition to caring for your kitty, we also include (at no extra charge) watering your plants, bringing in your mail, newspaper, etc., turning lights on and off, security checks, and so forth.

If your kitty requires medication (pills, injections), we also do this for no extra charge.
Odds & Ends
Peace of Mind Petcare has been providing pet care to Greater Victoria since 2006. We started out as Cadboro Bay Dogwalking & Petsitting and changed our name when we moved from Cadboro Bay. We are now located in Langford but continue to service clients throughout the Greater Victoria Region.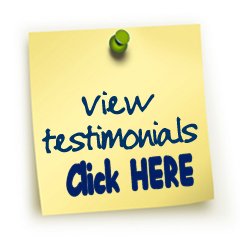 Employees: All work is done by Bob or Julie. We don't hire outside help. We've observed that companies that hire outside help, especially when it comes to dog walking, can only make it profitable by loading too many dogs on the walker which can be a recipe for trouble.
Insurance and Bonding: We are fully insured through Aviva Insurance Company of Canada with their Pet Care Professional Insurance Program and a member of the Pet Sitters International. Some petcare firms state that they are bonded. You should be aware that bonding only applies to a company that hires employees. Since we don't hire outside employees we're not bonded. We are bondable...that is, if we ever had to hire outside help our insurance company will bond them
Home Security Checks: Even if you don't have a pet, if you need to be away from home for an extended time we're happy to come by and conduct regular security checks. We'll bring in your mail, water your plants, alternate lights to give your home that lived-in look and check to ensure that everything is in order. Most home insurance policies have a clause indicating the frequency of visits that are required.
Flexibility: We understand that plans made today can change unexpectantly overnight. At Peace of Mind, we are here to serve you, not the other way around. Last minute requests or changes don't faze us and we don't ding you with an extra charge when they happen.
Payments: You will be invoiced on a monthly basis for services rendered. We accept checks, cash, email transfer or credit card through paypal. Currently we are required to charge 5% GST to your bill. Click HERE for a complete listing of our rates.
Keys: When you provide us with a key to your home you can rest assured that there is no identifying information on it that would provide a burglar the ability to know who it belongs to. The only tag info on your key is the name of your pet.
Extra Charges: There are none. While most pet service companies charge extra for such activities as administering medication, return of keys, initial consultation, etc., with Peace of Mind you will find that these are all included in your quoted rate. We're not here to nickel and dime you.
Deposits and Cancellation Charges: Again, there are none. We're here to serve you...not the other way around. We understand that situations arise and conditions change. We take pride in our flexibility. Just let us know as soon as possible of any change to your plans.
Pet Taxi: Whether it's an appointment with the groomer or the vet, it's never convenient when you are holding down a regular job. That's where we come in. We're happy to pick up your pet and take him to wherever it is that he's required to go and bring him back home again so that you don't have to take valuable time away from work. The rate for this service will depend on the distance and time required. Please call or email us for a quote.
Follow our Blog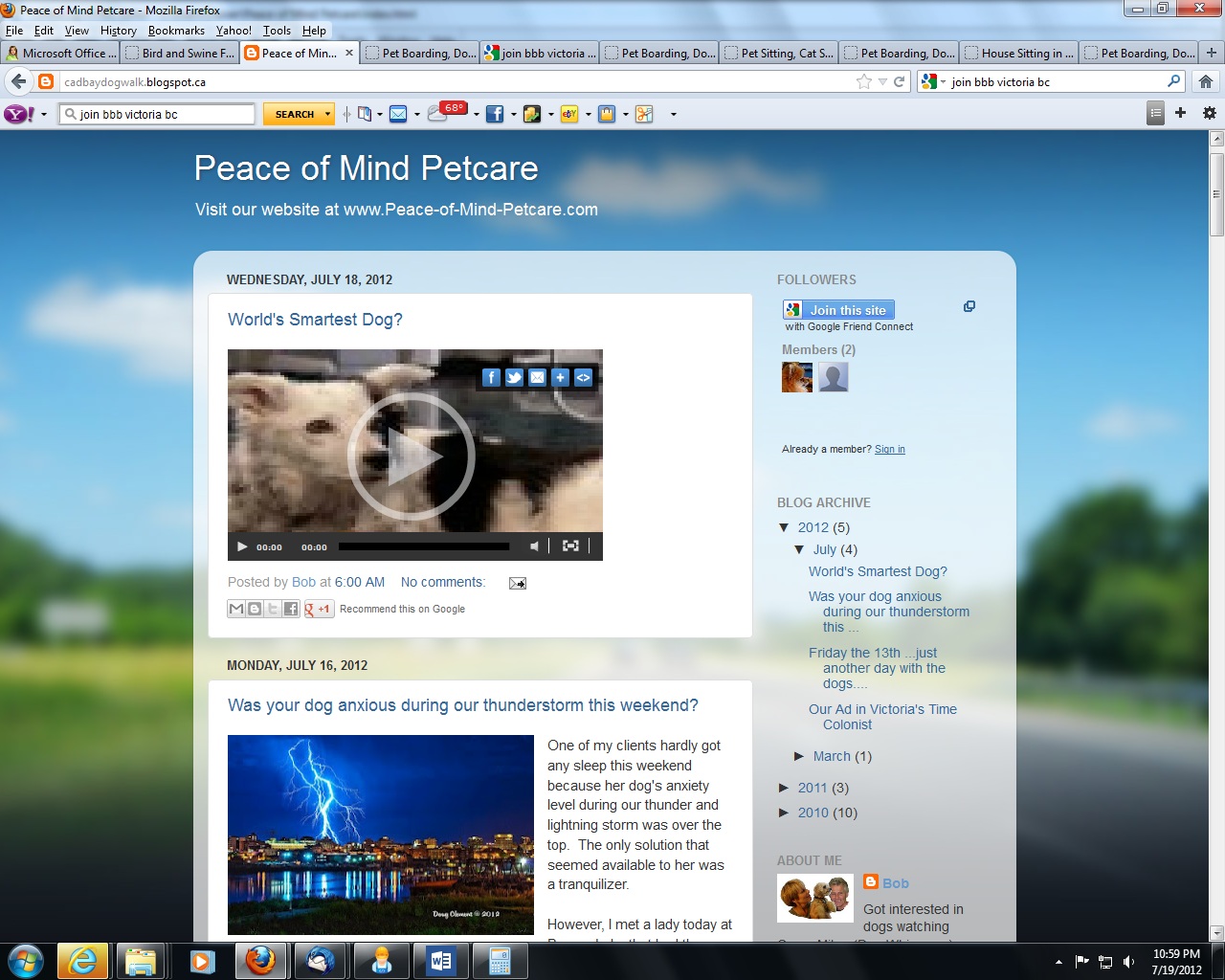 Want to know how your pet is doing while in our care? Simply go to our blog to see regular updates of what we're doing, complete with photos, videos, articles and lots more. If it's about pets, specifically the pets of our clients, you'll find it here.